Mainline Computer Direct Release Systems
Products
Showing 1 - 1 of 1
« Previous
|
Page:
1
|
Next »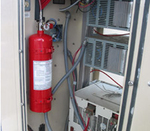 Firetrace Automatic Fire Suppression System
In-Cabinet Fire Protection
Contact Us
Showing 1 - 1 of 1
« Previous
|
Page:
1
|
Next »
Firetrace's fire protection – direct release systems utilize the Firetrace tube as both the "detection device" and "suppressant delivery". As the fire begins, the portion of the tube nearest the point where the most heat is detected ruptures, forming an effective spray nozzle.
The pressure will then drop as the Firetrace tube releases the entire contents of the cylinder through the distribution nozzle to effectively suppress the fire. More than one Firetrace tube can be used enabling the system to cover more area. Our fire suppression systems are critical for safety and protecting your valuable equipment.

For assistance on your project call Mainline Computer Products toll free at:
(800) 686-5312
or E-mail:
Sales@MainlineComputer.com
Mainline Computer Products Team
of highly qualified engineers and inside sales professionals provides outstanding pre-sales technical support in the areas of product configuration, specification and pricing.
---
See how we have provided cost-effective solutions for organizations nationwide.
Case Studies.
In addition, our services include site design and infrastructure planning, construction management, power protection and security planning.
For more information Email: Sales@MainlineComputer.com or call (800)686-5312.

Privacy | Return Policy | Shipping Terms