Mainline Computer Fire Suppression Systems
Products
Showing 1 - 1 of 1
« Previous
|
Page:
1
|
Next »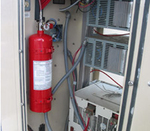 Firetrace Automatic Fire Suppression System
In-Cabinet Fire Protection
Contact Us
Showing 1 - 1 of 1
« Previous
|
Page:
1
|
Next »
We offer both in cabinet and machine level fire suppression and protection for high value and/or mission critical machinery and equipment as well as our new E4 Engineered Solutions for protection of large rooms.
FIRETRACE ADVANTAGES
• Targeted suppression that attacks the fire where it starts
• Detecting the fire at its source interrupts the fire at its earliest stages, usually well before other systems can react
• Lower cost and more environmentally friendly due to its ability to use smaller equipment and less total suppressant
• Enhanced people safety by operating inside the hazard space, not where people are present
• Does not require electrical sources, battery backups or control panels
• Better suppression capability since systems operate outside people-occupied spaces
• Much higher system reliability due to fewer components, lack of wiring and power sources and simple operating principles
• Simple to maintain with minimal training
INDUSTRIAL FIRE SUPPRESSION
• Cloud Servers
• Rack-Mount Servers
• Electrical Enclosures
• Hazardous Material Storage Cabinets
• Telecommunications Equipment
• Wind Turbines
• Power Generators & Gensets
FACILITIES
• Data Centers
• Wiring Closets
• Server Rooms
For assistance on your project call Mainline Computer Products toll free at:
(800) 686-5312
or E-mail:
Sales@MainlineComputer.com

Mainline Computer Products Team
of highly qualified engineers and inside sales professionals provides outstanding pre-sales technical support in the areas of product configuration, specification and pricing.
We work with you to understand your current challenges and future goals, then design custom solutions to help you meet your mission-critical goals. Our vendor-neutral approach gives you the flexibility to select the best IT Product or networking, data center, and communication solutions from a variety of vendors.
Our trained sales staff is well-versed in the latest technology advances and can provide compliant product alternatives as well as assess your current infrastructure to ensure optimal success.
---
See how we have provided cost-effective solutions for organizations nationwide.
Case Studies.
In addition, our services include site design and infrastructure planning, construction management, power protection and security planning.
For more information Email: Sales@MainlineComputer.com or call (800)686-5312.

Privacy | Return Policy | Shipping Terms