Mainline Computer APC Leak Detection
Products
Showing 1 - 1 of 1
« Previous
|
Page:
1
|
Next »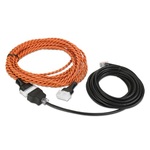 APC Leak Sensor Extension Cable (20') - #AP9326
Designed For Environmental Management System
$249.99
Showing 1 - 1 of 1
« Previous
|
Page:
1
|
Next »
Our Rope Water/Leak Sensors and a contact closure sensor for detecting water or water and glycol leaks. Detect leaks easily anywhere along the length of this flexible cable. The long length allows you to encircle a data center CRAC unit
Request For Quote:
In Planning a Data Center or NOC it is important to plan your hardware configuration requirements and future growth to keep up with the current technology. Poor planning can be costly, cause delays and unnecessary operational downtime.

Mainline Computer Products can assist in the Planning, Design, Construction, Design/Build and Equipment needed to build a First Class Data or Network Operation Center.
For assistance call us toll free at: (800)-686-5312 or E-mail: Sales@MainlineComputer.com
---
See how we have provided cost-effective solutions for organizations nationwide.
Case Studies.
In addition, our services include site design and infrastructure planning, construction management, power protection and security planning.
For more information Email: Sales@MainlineComputer.com or call (800)686-5312.

Privacy | Return Policy | Shipping Terms