Mainline Computer SL-350X® Manual ServerLIFT
Products
Showing 1 - 1 of 1
« Previous
|
Page:
1
|
Next »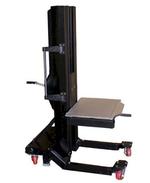 SL-350X ™ Manual ServerLIFT-"Free Consult"
• Lifts 350#
• 8' Range

$0.00
Showing 1 - 1 of 1
« Previous
|
Page:
1
|
Next »
How the SL-350X Makes Manually Lifting IT Hardware Easy
Frequently moving IT hardware, even light weight 2U and 4U servers, quickly becomes a physical and logistical pain for all data center operations after awhile. The SL-350X Manual ServerLIFT was built with this in mind, offering an intuitive and easy-to-use solution of server lifts for lighter IT hardware. The powerful hand-crank offers effortless lifting of IT equipment weighing up to 350 lbs. The SL-350X ServerLIFT features the durable design you have come to expect from ServerLIFT, in a light-duty, lower cost unit.
-
---
See how we have provided cost-effective solutions for organizations nationwide.
Case Studies.
In addition, our services include site design and infrastructure planning, construction management, power protection and security planning.
For more information Email: Sales@MainlineComputer.com or call (800)686-5312.

Privacy | Return Policy | Shipping Terms