Mainline Computer Eaton 9PXM UPS
Products
Showing 1 - 1 of 1
« Previous
|
Page:
1
|
Next »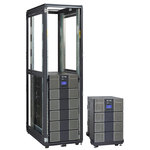 Eaton 9PXM UPS-9PXM8S4K
4kVA scaleable to 16kVA
Hardwired,208-240V, Rack/Tower, 14U
Contact Us
Showing 1 - 1 of 1
« Previous
|
Page:
1
|
Next »
The Eaton 9PXM UPS is a scalable, modular UPS that combines the highest level of reliability with the lowest cost of ownership. Through 4 kVA plug-and-play power modules, the 9PXM delivers an expandable level of N+X redundancy. The 9PXM fits eight or twelve-slot tower enclosures which are easily converted into 14U and 21U rackmount solutions.
Scale up as your business grows
• Power modules provide 4 kVA building blocks
• 8-slot offers 4-16 kVA (N+X) in 14U frame
• 12-slot offers 4-20 kVA (N+X) in 21U frame
For assistance call us toll free at: (800)-686-5312 or E-mail: Sales@MainlineComputer.com
Request For Quote:

Mainline Computer Products team
of highly qualified engineers and inside sales professionals provides outstanding pre-sales technical support on Power Solutions, in the areas of product configuration, specification and pricing..
We work with you to understand your current challenges and future goals, then design custom solutions to help you meet your mission-critical goals. Our vendor-neutral approach gives you the flexibility to select the best IT Product or networking, data center, and communication solutions from a variety of vendors.
Our trained sales staff
is well-versed in the latest technology advances and can provide compliant product alternatives as well as assess your current infrastructure to ensure optimal success.
Pricing does not include shipping charges, please contact Sales@MainlineComputer.com or call (800) 686-5312 for a freight quote.
---
See how we have provided cost-effective solutions for organizations nationwide.
Case Studies.
In addition, our services include site design and infrastructure planning, construction management, power protection and security planning.
For more information Email: Sales@MainlineComputer.com or call (800)686-5312.

Privacy | Return Policy | Shipping Terms