Mainline Computer SmartRow™ Cooling- Self-Contained Datacenter
Products
Showing 1 - 1 of 1
« Previous
|
Page:
1
|
Next »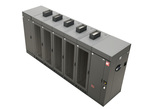 Vertiv Smart Row™-Self-Contained Data Center
In Just Weeks
Contact Us
Showing 1 - 1 of 1
« Previous
|
Page:
1
|
Next »
SmartRow™ combines up to six data center racks -- with precision cooling, UPSs, power management, monitoring and control technologies, and fire suppression~
The SmartRow™ Infrastructure Solution reduces the cost and complexity associated with designing and managing smaller data centers, remote locations or disaster recovery sites. It is simple to configure and deploy and can work in virtually any air-conditioned room. The infrastructure could be installed in a spare room, for example, without making significant changes to the room—even in locations where people are working.
The infrastructure solution can be configured to support up to 20 kW of equipment in up to six sealed enclosures. Integrated cooling is provided by a precision cooling system with digital scroll compressors that optimize efficiency by allowing cooling capacity to continually adapt to changes in load. Efficiency is enhanced through the design of the cooling distribution system, which prevents hot and cold air from mixing, increasing return air temperatures.
Available in air-cooled, water/glycol and chilled water configurations to work with existing heat rejection systems, the infrastructure features a backup ventilation system with temperature sensors that activate exhaust fans at the top of the enclosure if temperatures get too high for any reason.
Power protection can be provided by rack UPS systems or existing UPS systems. In addition, integrated fire suppression allows the system to meet fire code without costly room modifications.
For assistance on your project call Mainline Computer Products toll free at:
(800)-686-5312
or E-mail:
Sales@MainlineComputer.com

---
See how we have provided cost-effective solutions for organizations nationwide.
Case Studies.
In addition, our services include site design and infrastructure planning, construction management, power protection and security planning.
For more information Email: Sales@MainlineComputer.com or call (800)686-5312.

Privacy | Return Policy | Shipping Terms