Mainline Computer Full-featured Seating
Products
Showing 1 - 1 of 1
« Previous
|
Page:
1
|
Next »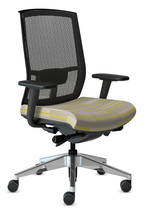 Gist™ Chair Model GS33
Gist™ the chair you need.
Contact Us
Showing 1 - 1 of 1
« Previous
|
Page:
1
|
Next »
Introducing Gist™ – the full-featured seating line with the affordable price tag.
All three models offer soft-comfort armpads, adjustable back support and
upholstered seats with silver/black mesh backs. (Custom upholstery and black
mesh are also options.) Contemporary style, easy ergonomics and outstanding
value make Gist just the chair you need!
---
See how we have provided cost-effective solutions for organizations nationwide.
Case Studies.
In addition, our services include site design and infrastructure planning, construction management, power protection and security planning.
For more information Email: Sales@MainlineComputer.com or call (800)686-5312.

Privacy | Return Policy | Shipping Terms