Mainline Computer Sit-Stand Consoles
Products
Showing 1 - 1 of 1
« Previous
|
Page:
1
|
Next »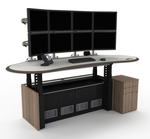 Sit-Stand 60" Console
• Includes Monitor Arms
Contact Us
Showing 1 - 1 of 1
« Previous
|
Page:
1
|
Next »
Mainline Computer Products has been designing Command and Control Consoles for mission-critical environments for over 26 years. Our Consoles have been installed in Fortune 500 Corporations throughout the United States.
Our consoles are specifically constructed to withstand the rigors of 24/7 multi-shift environments found in the Oil/Gas Industries, Utility and Manufacturing Process Control.
We understand the demands of these markets and our designs address electric, cabling, work surface
Requirements, personal storage and operator comfort.
For assistance on your project call Mainline Computer Products toll free at: (800)-686-5312 or E-mail: sales@mainlinecomputer.com
---
See how we have provided cost-effective solutions for organizations nationwide.
Case Studies.
In addition, our services include site design and infrastructure planning, construction management, power protection and security planning.
For more information Email: Sales@MainlineComputer.com or call (800)686-5312.

Privacy | Return Policy | Shipping Terms