Mainline Computer TS IT Network/Server Enclosures
Products
Showing 1 - 1 of 1
« Previous
|
Page:
1
|
Next »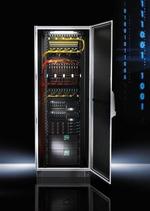 Rittal TS IT Network/Server Enclosure-42U-
78.74H X 23.62W X 47.24D
Perforated Front and Perforated Split Rear

Contact Us
Showing 1 - 1 of 1
« Previous
|
Page:
1
|
Next »
Rittal has redefined the standard in network and server enclosures with its TS IT modular system, featuring tool-less, snap-in assembly technology to boost operating efficiency while lowering costs. It's easy to deploy, provides a safe environment for servers and other components, can be easily reconfigured and offers an optimum price/performance ratio.
The TS IT System has established a new standard in functionality and efficiency, encompassing virtually all the requirements placed on network and server enclosures through its simple, tool-less design.
Features:
• Tool-free assembly for racks and accessories makes the most of snap-in technology
• Integrated locks, latches and quick-fasteners help to make completion a one-person task
• Offset positioning for mounting widths of 19", 21", 23" and 24"
• Glazed or vented door options
• Unique 180-degree hinges on both front and back doors
• Divided rear doors as tall as 71 inches
• Multifunctional roof design
• High load capacity of more than 3,000 pounds
Request For Quote:
For more information call 800.686.5312
---
See how we have provided cost-effective solutions for organizations nationwide.
Case Studies.
In addition, our services include site design and infrastructure planning, construction management, power protection and security planning.
For more information Email: Sales@MainlineComputer.com or call (800)686-5312.

Privacy | Return Policy | Shipping Terms