Mainline Computer SeaHawk Sensing Cable
Products
Showing 1 - 1 of 1
« Previous
|
Page:
1
|
Next »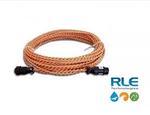 SeaHawk Sensing Cable: Conductive Fluid-SC-50
50 ft, Pre-Installed Male/Female Connectors
$351.00
Showing 1 - 1 of 1
« Previous
|
Page:
1
|
Next »
RLE's orange sensing cable (SC)
reliably detects the presence of water leaks and other conductive fluids. It's one of our hallmark products, and RLE Technologies has held the patent for this particular cable since 2000.
RLE's conductive fluid sensing cable is:
• Durable – manufactured with an abrasion-resistant polymer core, which increases strength and durability. Definitely stands up to foot traffic!
• Flexible – easily bends around corners and wraps around pipes, while resisting bends and kinks.
• Resists False Alarms – engineered specifically to resist contamination and constructed from non-conductive polymers to help eliminate false alarms!
• Quick to Install – each end of the cable contains mating connectors – this makes it easy to install new systems and to add lengths of cable to existing systems.
• Easy to Clean – when it's visibly dirty, clean it quickly with Dawn dish soap or rubbing alcohol. No special cleaners or cleaning systems required.
• Fast Drying – gently wipe the cable dry, and it's ready to detect the next leak.
• Plus – all of our sensing cables are manufactured and assembled in the USA.
Sensing cables are available in a variety of standard and custom lengths:
• 10ft (3.05m) – SC-10
• 17ft (5.18m) – SC-17
• 25ft (7.62m) – SC-25
• 50ft (15.24m) – SC-50
• 100ft (30.48m) – SC-100
Custom Lengths (available upon request) – SC-CL-xx
With over 14 million feet of leak detection sensing cable installed in systems around the globe, you can't beat the durability or reliability of our leak detection sensing cables.
For assistance on your project call Mainline Computer Products toll free at:
(800)-686-5312
or E-mail:
Sales@MainlineComputer.com

---
See how we have provided cost-effective solutions for organizations nationwide.
Case Studies.
In addition, our services include site design and infrastructure planning, construction management, power protection and security planning.
For more information Email: Sales@MainlineComputer.com or call (800)686-5312.

Privacy | Return Policy | Shipping Terms