Mainline Computer Smart Solutions

SmartMod
Modular Enclosure for Stand-Alone Data Centers.

SMART ROW™
Empty Room to Data Center in 1 Week
Products
Showing 1 - 1 of 1
« Previous
|
Page:
1
|
Next »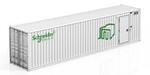 Prefabricated Containerized All-in-One IT Module 96kW 12 Racks
FanCoil Cooling 400V/50Hz
Configured Power: 96000
Contact Us
Showing 1 - 1 of 1
« Previous
|
Page:
1
|
Next »
Deploying a new data center is a challenge, requiring tremendous drain on resources. Building one in a short timeframe is nearly impossible.
The
SmartMod™
offering is an intelligent, rapid deployable, modular enclosure for stand-alone data centers.
The
SmartMod™
infrastructure solution is pre-engineered from the ground up to provide a complete power and cooling infrastructure and configuration flexibility that typical data center containers cannot. This means once you've configured your SmartMod enclosure, it becomes a data center manager's dream with remote management, intelligent controls, and unmatched engineering to accommodate your needs for economy and efficiency.
The
SmartMod™
infrastructure from Emerson Network Power provides enhanced levels of availability, effi ciency and control in self-contained enclosures that can be deployed securely,
virtually anywhere. With the SmartMod solution, you get an effective alternative to traditional data centers, which gives you cost-savings, operational efficiency and the highest levels of availability - implemented in
just months.
SmartMod™
infrastructure is ideally suited for:
• Supplemental data center capacity
• Disaster recovery
• Remote data centers
With the SmartMod solution, Emerson Network Power has demonstrated CAPEX savings of about 8 percent AND OPEX savings of about 29 percent, as well as:
• Tested as a system, minimizing commissioning and deployment time. Full testing reports are provided
For assistance on your project call Mainline Computer Products toll free at:
(800)-686-5312
or E-mail:
Sales@MainlineComputer.com

---
See how we have provided cost-effective solutions for organizations nationwide.
Case Studies.
In addition, our services include site design and infrastructure planning, construction management, power protection and security planning.
For more information Email: Sales@MainlineComputer.com or call (800)686-5312.

Privacy | Return Policy | Shipping Terms