Mainline Computer LIQUI-TECT MONITORING SYSTEM
Products
Showing 1 - 1 of 1
« Previous
|
Page:
1
|
Next »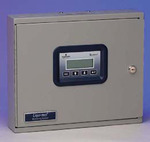 Liebert Liqui-tect Two Channel Leak Detection System- #LPL1150
• Monitoring and Reporting of Leak Detection in Two Different Zones
• 115VAC Transformer Module

Contact Us
Showing 1 - 1 of 1
« Previous
|
Page:
1
|
Next »
The Liebert Liqui-tect Monitoring System is the ultimate in leak detection and retrofitting capabilities
for computer rooms and other large areas. The Liqui-tect Monitoring System provides direct-read
at the control unit location, as well as the ability to communicate with the Liebert SiteScan Web
enterprise monitoring system or a building management system.
The Liqui-tect Monitoring System features an easy-to-use liquid crystal display (LCD) panel with
readout of normal and alarm conditions, as well as leak location. Display and measurement modules
are contained in a single compact package.
The Liqui-tect Monitoring System can monitor up to 10,000 ft. (3048m) of Liebert LT500Y leak detection
cable. Points along the cable may be mapped by one person, making it easy to configure within
the critical space and pinpoint the location of leaks when they occur. The system determines the location of the water on the detection cable and reports the distance from the Liqui-tect panel in feet or
meters. To ensure proper protection, the system continuously monitors operation, signaling system
normal, leak detected and cable fault.
The Liqui-tect panel offers these and other features to protect your installation from leak damage:
• audible and visual alarms
• adjustable sensitivity setpoints for leaks and contamination
• continuous scrolling of data
• history logs
• connection to a building management system
• automatic detection of broken cables and contaminated cables
• password protection
• retention of configuration after a power failure
Two interfaces permit easy access and configuration of the Liqui-tect panel:
• LCD on the front of the enclosure
• Liebert's SiteScan Web enterprise monitoring system through a dedicated connection port
For assistance call us toll free at: (800)-686-5312 or E-mail: Sales@MainlineComputer.com
Request For Quote:
---
See how we have provided cost-effective solutions for organizations nationwide.
Case Studies.
In addition, our services include site design and infrastructure planning, construction management, power protection and security planning.
For more information Email: Sales@MainlineComputer.com or call (800)686-5312.

Privacy | Return Policy | Shipping Terms